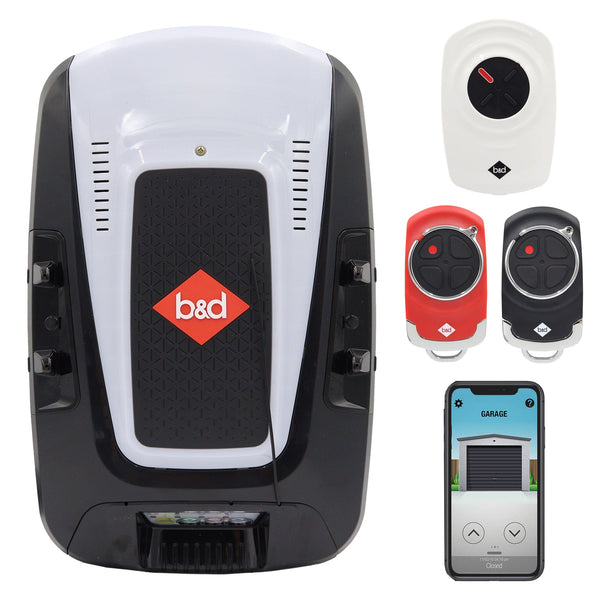 B&D Smart Pro SDO-9v3 Sectional Garage Motor/Opener (No Rail)
In most cases, your garage door serves as the main entrance to your home. Keeping your family and possessions secure is crucial, so it makes sense to pair it with a powerful, secure opener. 
This device is compatible with a Smart Phone Control Kit, Auto-lock, and a Camera.

Includes:
1x SDO 9v3Motor
1x Wall Mount Transmitter

2x Transmitters
Please Note: This item does not include the rail
Technical Specifications:
Input Power:

 220W

Voltage Range: 230V - 240V
Frequency: 50Hz

Maximum Door Area: 18m

²

Maximum Door Weight: 300kg
Maximum Headroom: 57mm
Operating Time: 4mins
Operating Temperature Range : +5°C to +40°C
Short Term Peak Force: 1400N
Door Travel Speed: 125 (mm/sec)
Load: 450N
Maximum Lifting Under Spring Tension: 200N (20kg)
Memory Register:

 

64
Remote Battery: CR2032
Network Connectivity: Network Ready (Smart hub already installed)
Smart Phone Compatibility:
Apple devices

Android devices 
Please note that the Smart Phone Control Kit is NOT included. Click here to purchase the item separately. 

Silent Alarm: This feature provides you with real-time notifications whenever your door is operated, opened for an extended period of time, or when your opener requires maintenance.
Customisation: The B&D® App can be customised according to your preferences. Whether it is partial opening modes or restricting time of door access, your protection and security is our top priority.

Activity Log: This feature is available in the App so you can keep track of who has operated your garage door at what time.
Voice Control: No more hunting for the garage remote. You have the possibility to control your garage door with the sound of your voice via the B&D App by simply linking your Apple Siri or Google Home account. 
Total Control: The App also allows you to control who has access to operating the garage door without a remote. You can give and remove access to as many users as you'd like. 
Multiple Devices in Multiple Locations: Additionally, you can control as many garage doors and compatible gates in several different locations via the B&D App (eg. your home garage door, your business or holiday home garage door).
Warranty: 7 years / 20000 cycles
*Warranty Disclaimer
*Please Note: To receive full manufacturer warranty, you must be able to provide proof of install by a garage installer and the door must have a regular servicing history as per the manufacturer terms and conditions which can be found on the manufacturer's website or in your user manual