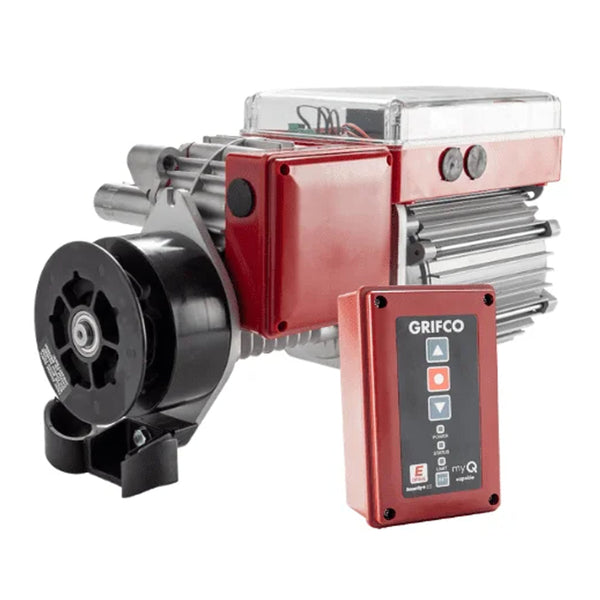 Grifco MH6102 E-Drive Operator High Cycle for Roller Shutters - Right | Single Phase | 1Hp
Gain full control and oversight of your doors directly from your smartphone, no matter where you are. With E-Drive, enhanced by myQ connectivity, you're tapping into the cutting edge of logic and smart technology. This powerful combination builds upon Grifco's well-established legacy in traditional spring-balanced roller shutters, doors, and grilles.

E-Drive with myQ sets the gold standard for commercial doors. Its unmatched performance is a testament to its prowess. The proprietary expandable logic system ensures exceptional adaptability and versatility right at the location, placing it head and shoulders above the competition.
Features:
Purpose-Built Gearbox with a Range of High-Powered Motors
This advanced gearbox system is equipped with a variety of robust motors, carefully calibrated to deliver accurate and dependable operation. These motors are optimised to provide substantial torque and efficiency, ensuring seamless and consistent performance even under challenging conditions.
Multiple Configuration Options for Diverse Applications
Recognising the unique demands of various applications, this product offers an extensive selection of configuration options. Whether your operations are within an industrial, commercial, or residential setting, this gearbox can be tailored to meet your specific needs. This adaptability ensures a seamless integration into a diverse range of applications.
Electronic Limits with Onboard Security +2.0 Radio for Enhanced Security
This advanced security protocol ensures that your operations remain confidential and safeguarded against unauthorised access. The encrypted communication provided by Security +2.0 adds an extra layer of assurance, making this system an excellent choice for applications where security is of utmost importance.
Comprehensive and Modular Array of Accessories
In addition to our core system, we offer an extensive range of accessories that enhance functionality and adaptability. These modular add-ons seamlessly integrate with this gearbox, enabling you to customise the system to your precise requirements. From specialised mounting solutions to customised control interfaces, our accessories offer a complete solution for optimising performance in your distinct application.
Seamless Integration with myQ Smartphone Control
This system is fully compatible with myQ smartphone control technology. This integration allows you to effortlessly monitor and manage your system remotely, providing real-time updates and control right at your fingertips.
Includes:
ML6102 – eDrive +2.0 Opener
Wall Control (C10A)
Mounting Hardware
Specifications:
Input Power: 240V
Amps:

 4.4

A
IP Rating: IP44
kW:

 

0.75kW
Horse Power: 1.0Hp

Phase:

 

1Ph
Rated Door Area: 30

m²

Duty: HC-30
Wall Control Frequency:

 

433.92 MHz
Warranty: 2 years