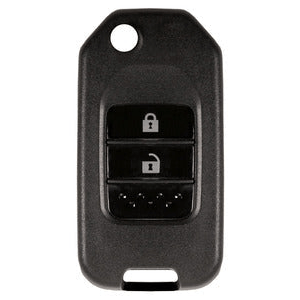 KeyDIY 2 Button Flip Key to suit Honda B10-2
There are many different designs of remotes to choose from within the KeyDIY (KD) range, enabling you to select a style that either matches the original remote or a style your customer prefers.
The B series remotes, sold in blue packaging, require an appropriate transponder to be fitted.
The NB series remotes, sold in red packaging, are fitted with an integrated transponder on the board.
The ZB series remotes, sold in blue packaging, includes an integrated transponder and a safety blade (instead of a flip key blade). The ZB series are used for smart/proximity keys.
All remotes require a key blade, roll pin and a CR2032 battery.
Compatibility
KeyDIY KD900
KeyDIY KD-X2
Manufacturer: KeyDIY
KeyDIY Remote Series: B Series
Model: B10-2
Colour: Black
Weight: 47g
Buttons: 2
Panic: No
Transponder: No
Smart: No
Battery Compliance
This product has been tested and approved by a third party and is compliant with AS62368.1.
| | |
| --- | --- |
| Battery Type: | CR2032 |
| Battery Access Type: | Tool Required |
| AS62368.1 Compliant: | Yes |
| Battery Included: | No |
| Contains Coin Battery: | Yes |