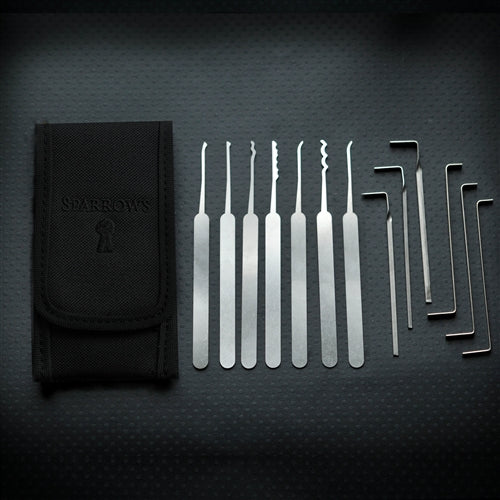 Sparrows Tuxedo Set BLACK case
The Tuxedo -
The Tuxedo set by sparrows is designed to be your everyday carry set. The set includes 7 carefully selected picks that will open a wide variety of locks from standard front door locks to high security locks. Each picks has a smooth finish to help with lock manipulation and feed back. This set also includes one special 0.015 thin pick for narrow or full keyway picking. The Tuxedo set also includes 6 tension wrenches of varying widths allowing for perfect control over the lock core. This set is designed for professionals who want a lock pick set with minimal bulk while being able to open a wide range of locks. Available with either a Coyote Case or Blacked out Case
ADD A CUT AWAY LOCK OPTION
A Cut Away lock is a great aid to help you increase the speed with which you learn or Teach lock picking.
Being able to see the pins move and hit the sheer line will give you a faster appreciation for the feedback that you feel with the picks.
A standard pin cut away lock will pick in the same way as almost all pad locks and standard front door locks.
Available With Black or Coyote Case
This set Includes
1 x Best Buster Snake rake 0.025 Thick
1 x Triple Rake 0.025 Thick
1 x Small Half Diamond 0.025 Thick
1 x Offset Hybrid 0.025 Thick
1 x Short Hook 0.025 Thick
1 x City Rake 0.025 Thick
1 x Short Hook 0.015 Thick
6 x Tension Wrenches
1 x Tuxedo Case
NO DOUBLES & NO FILLERS
Technical Descriptions
- The "Best-Buster" is an altered profile similar to the traditional "snake rake". This rake is effective on many lock types, but is specifically designed for shallow, sweeping key bitings like those found in Best, Arrow, and Falcon locks.
- The "Triple-Peak" is used on the withdrawal stroke and is one of the most effective rakes available. It differs from a traditional rake in the way it functions by using a "ramping" effect similar to bumping. Similar to the double peak with different spacing.
- The "Small half Diamond" acts like a wedge while manipulating pins in keyways that are arranged in a manner that disallows a hook-type pick. The half diamond wedges itself under, and sometimes past the pins that are set too low to get a traditional hook under.
- The "Offset Hybrid" is a combination of a shallow hook, and a rounded half diamond. The wedge-like point and specially rounded bottom edge slides through the keyway. With the pick acting as a centered fulcrum you will find that this pick has extremely smooth and controlled lifts. This is critical for locks like ASSA.
- The "Standard short hook" or lifter is the first "go-to" pick in the arsenal. This Pick is more versatile and is used more often than any other pick. It is designed to let the picker feel of the intricacies of the lock and manipulate pins individually. When the pick is used in a raking type technique it is also possible to work several pins at the same time. This pick is good for a wide range of keyway types, and pinning arrangements.
- The "City Rake" is a standard rake that has proven to be indispensable over the years. This pick does a fantastic job of emulating the key bitings found among most common commercial and residential locks such as Kwickset, Weiser and master.
All lock picks are manufactured by Sparrows out of American Made 301 Cold Max steel with average tension strength of 280,000 PSI