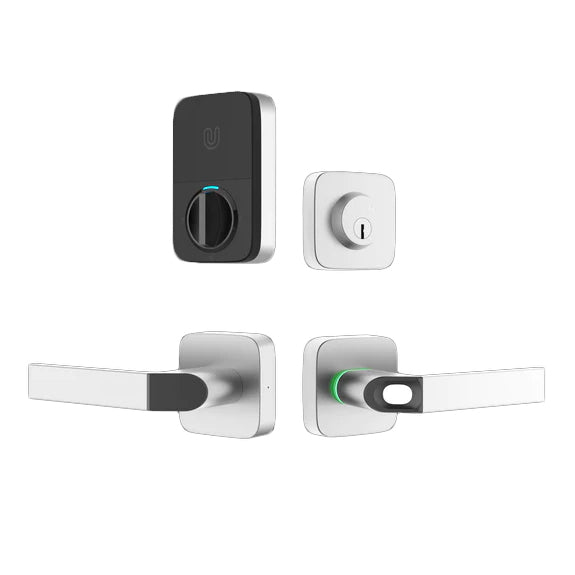 Ultraloq Combo Bluetooth Enabled Fingerprint & Key Fob Two-Point Smart Lock
Instructional Video
Ultraloq Combo is a revolutionary smart lock that offers entry via biometric fingerprint identification, contactless key fob, or your Bluetooth enabled smartphone. With 2-Point locking and One-Touch-Unlocking feature, it brings security and simplicity together. The Bridge upgrade allows you to share an eKey with guests while you're away from your home and monitor all activity via the iOS or Android app.
Lose or forget your key again?
What if you can share temporary access to your guests or service people?
How can I control my lock when I am away?
Want to be notified when your kids return home?
Two-Point Locking
It features two-point locking to keep your home twice as safe. One on the deadbolt and one on the handle.
One Touch Unlocking
The fingerprint sensor is thoughtfully positioned to accompany your natural hand positions. With our patented technology one seamless action allows you to wake the sensor, read your fingerprint and unlock two locks. It works in the same way if you use smartphone or key fob to unlock.
Single Motion Exit
Automatically unlocks when the interior level is turned down. This feature can be disabled.
Quick Tap Entry
For those who don't want to use smartphone or fingerprint, UL1 can be unlocked with a contactless key fob. Once you present the key fob in the vicinity of handle, the door will instantly unlock. Ideal for kids and the elderly.
Go Remote Instantly with Bridge
Control entry access to your door from anywhere, for anyone with the optional Bridge. You can unlock your Ultraloq or grant access to guests and visitors via an eKey for specific dates or periods of time remotely with no monthly charges. You will receive a smartphone notification when someone opens your door.
Share Ekeys
Grant access for specific dates or times.
Keyless Entry
Ultraloq App enables you to unlock your door with your smartphone.
Manage Users
Know who has the access to your lock and how. Add or delete users any time you want.
Log Record
You can see a Log of who's entered and exactly when they did from your smartphone.
Dual Battery System
To ensure that you're never locked out because of a dead battery, the lever operates on a dual battery system as well as sends your phone warnings if the battery is low.
Up to 8,000 times Access thanks to Bluetooth 4.0's ultra low power consumption technology. Ultraloq can be powered by four AA batteries with more than one year of battery life through regular use.
Match Your Home Aesthetic
Ultraloq Combo is thoughtfully crafted with style and functionality in mind. The handle looks clean and compact on any door with smooth surfaces, curved edges, and narrow size. While the main function of Combo is safety, we wanted to create a lock that brings usability, simplicity and elegance together.
DIY Installation
Ultraloq Combo is designed to fit any US standard door. The simple installation takes minutes and only few screws. No wiring and no drilling. The lever is reversible for both left handed and right handed doors.