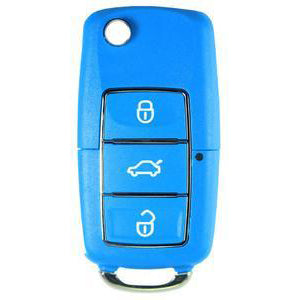 X-Horse 3 Button Blue Flip Key to suit Volkswagen XKB503EN
There are many different designs of remotes to choose from within the X-Horse (VVDI) range, enabling you to select a style that either matches the original remote or a style your customer prefers.
The XK-Series, sold in RED packaging, can be programmed with a wired connection. Wired programming requires that the battery is inserted AFTER remote programming/burning the profile. This series is intended for vehicles where the transponder and remote are separate.
All remotes require a key blade, roll pin and a CR2032 battery.
Compatibility
All VVDI Tools (VVDI2, VVDI Mini Key Tool, VVDI Key Tool etc.)
Manufacturer: X-Horse
Remote Type: Wire Remote
Model: XKB503EN
Colour: Blue
Weight: 55g
Buttons: 3
Panic: No
Transponder: No
Smart: No
Battery Compliance
This product has been tested and approved by a third party and is compliant with AS62368.1.
| | |
| --- | --- |
| Battery Type: | CR2032 |
| Battery Access Type: | Tool Required |
| AS62368.1 Compliant: | Yes |
| Battery Included: | No |
| Contains Coin Battery: | Yes |